The Batiste Family Collection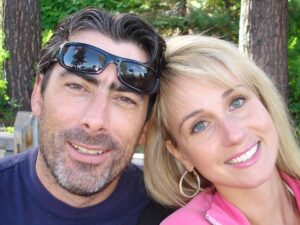 The Batiste Family Collection contains VIII Winter Olympic artifacts ranging from many objects that were hand made and sold by individuals to olympic medals given to the athletes.  Stan was raised as a summer resident in Cedar Flat where his parents built a cabin in 1957. As teachers, Stan's parents left for Tahoe the day school was out and only returned to the family home in Roseville the day before school. The kids found Mount Watson to be their backyard – fishing in the creek and playing in the caves that are still only known to a few. Several times a summer the family would visit Blyth arena to skate where the open wall looked over Squaw Valley and hitting the metal flange on the side rail with the skate tip echo is still remembered.
Stan and Maryann feel that the value of their collection is in getting it back to the people of Tahoe and Squaw Valley in a meaningful way and attempting to tell the grand story of the Olympics in doing so. Stan's mom and dad still love the mountains and stay at the house whenever possible.  Stan, Maryann and their kids Daniel, Maryann and Amanda now reside in Granite bay, Ca but can be found at the cabin nearly every weekend.